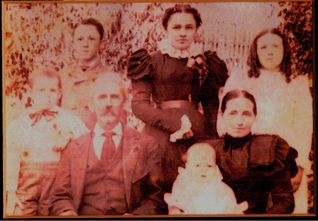 The portrait above of John Montgomery Gallaher's family dates to 1896 (Roy Gallaher is the baby in this photo, born in 1896).
Back row: Homer, Minnie Belle, Lennis. Front row: Macy Mack, John Montgomery Gallaher, baby Roy, Parallee Doughty Gallaher.
John Montgomery was about 45 years of age, Parallee was about 38 at this time.
Family Reunions at John and Parallee Gallaher's Home
This Knox home of Macy's father existed at the corner of Hardin Valley and Steele Roads until about 1935,ultimately becoming the home of Roy and Myrtle (Harvey) Gallaher.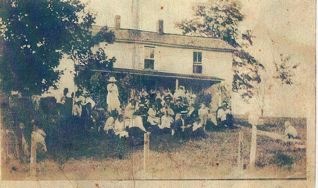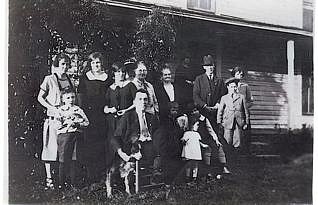 While Parallee Gallaher was alive, there were many family gatherings at her home. This home (both photos above) was at the corner of Steele Road and Hardin Valley Road, and became Roy Gallaher's farm after Parallee died.It contained the original log cabin underneath that was later covered with siding. The entire structure burned about 1935.
In the lower on the two photos(l-r): Myrtle Harvey Gallaher, with son John Gallaher (later known as radio personality and musician "Johnny G from Tennessee.")
In front row: Johnnie Mae Kollock and Hazel Reagan; Roy Gallaher sitting in front; Parallee at the back behind Roy; Allie Steele; little Margaret Mack Gallaher in front with Billy Reagan; Ruth Reagan behind her and then Macy and Betsy Gallaher to the right, with Teddy Reagan in front of them. Photo was taken about 1924.
Betsy and Macy, 1921 shortly after their marriage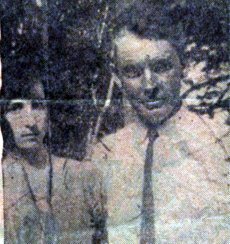 Copyright 2009. Suzanne Haley. clinchrivergallahers@gmail.com
Some Gallaher Family History
Macy Mack Gallaher was the son of John Montgomery Gallaher (1851-1905, born in Knox County) and Parallee Swan Doughty Gallaher (1858-1950). Macy and Paralee were married in 1880 in Knox County.
John Montgomery Gallaher was the son of David Gallaher (1813-1894, born in Knox County) and Jane Montgomery Gallaher. David was the son of Joseph Gallaher (1774-1824, born in Cumberland Co, PA) and Margaret Gillespie Gallaher. And Joseph was the son of James H. Gallaher (1730-1792, born in Northern Ireland) and Sarah Miller. All of these Gallahers except the last two are buried either in the Marietta Cumberland Presbyterian churchyard (off Hardin Valley Road) or in the Hickory Creek Cemetery. James H. and Sarah Gallaher were buried in Old Salem Cemetery at Washington College, Washington County, Tennessee. And although I've walked through that cemetery searching, I've not been able to find those very old gravestones.
John Montgomery's wife Parallee was quite a distinguished and accomplished woman in her own right. More details of her life can be found on the Doughty Genealogy website. When Parallee's husband John Montgomery Gallaher died of pneumonia on Christmas Day of 1905, Macy was only 16, but he dropped out of school and began running the family farms to support Parallee and the Gallaher family.
As a widow, Parallee's family consisted of Lennis (age 19), Macy (16), and Roy (9). Their sister Minnie Belle (23) had already married Frank Kollock in 1902 and established their own home nearby, on the other side of Hardin Valley Road.
The eldest Gallaher son was Homer, born in 1884. However, in the 1890's Homer had gone hunting one day with Cousin Sabre Jones' boys, and in climbing over a fence one of their guns discharged and killed Homer. Macy always carried the remembrance of this tragedy, never wanting much to do with hunting or guns.
At his father's death, there were actually two family farms for Macy to manage. The 'over the river' farm was located in Anderson County and encompassed 400 acres; tenant farmers lived and worked that property. The Anderson County farm was the old Taylor-Keith land, inherited from Macy's grandmother Betsy Keith Taylor Doughty. The 100 acres in Hardin Valley, in Knox County, comprised the other farm. It had originally been Hardin land; George Washington gave the land as a Revolutionary War grant to Col. Hardin, who married a Gallaher. The two farms were 4 miles apart, located on opposite sides of Clinch River.
Just prior to WW I, Macy worked for awhile in Oregon and Washington. I have a written story from Macy detailing his work there. He drove a team of 6 horses (riding another horse behind, not a cart, he said) to prepare the fields of Gordon Hensley to sow wheat. He also participated in cattle drives, but returned home in May of 1918, joining the Army in August of that year.
Roy and Macy were farming partners for awhile, and ultimately they paid their sisters for their shares of the two Gallaher farms. Then Roy took the Hardin Valley farm and Macy took the Anderson County farm. Parallee lived with Roy and his wife Myrtle on Hardin Valley Road until her death in 1950. Roy not only farmed, but was also involved with the Atomic Energy Commission's Agricultural Research farm, working with cattle experiments.
After the war, Macy and Betsy lived on the Anderson County farm, although, as Macy recalled, it began to seem too isolated to him.Once when he was sick, wife Betsy had to ride a horse to the home of their neighbor Ben Ross in order to phone for a doctor. So this sense of isolation contributed to Macy's decision to move across Clinch River to Hardin Valley, nearer his brother Roy and sister Minnie.
When Cousin Sabra K. Jones(1859-1938) died, Macy bought her home and property (next door to brother Roy). That Hardin Valley property became home for more than 50 years for Macy Mack and his family. Macy was sharp and very enterprising--and he studied and took delight in learning and applying new farming techniques.
A series of interviews with Macy by Vic Weals were published in the Knoxville Journal in November of 1979. Macy explained how, as a young farmer, he improved the Gallaher Ferry to bring materials from Anderson County to Knox County, and bought a corn hopper and a hay lift to modernize and increase his farms' efficiency. These modernizations had been unheard of in that part of the county at that time. Once Macy and Jim Neely devised the new ferry across the Clinch River, the two counties (Anderson and Knox) asked him to donate the ferry in exchange for their provision of a ferryman. Macy agreed and his two farms benefitted greatly from that ferry, as did many others in both counties. Hodge Crawford was the ferryman for many years.
In addition to farming in the 1930's, Macy worked in Tekoa (Tecoy) at the old County Workhouse, where he was a guard, taking prisoners out for their work; he was also deputized to be able to arrest people. Sapper Morris was his boss there. At another time he worked for Knox County driving a rock truck as the narrow mountain roads were widened and improved. Macy also helped build the first streets of Knoxville when the city hired farmers to bring their equipment into town to level out the streets before their first paving.
Original Anderson County Home
Below is a very old photo of the Gallaher's "house over the river" in Anderson County, the original family home, which had come down through Parallee Doughty Gallaher's mother, Elizabeth Keith Taylor. It was flooded when the Oak Ridge nuclear facility was built and now lies underwater. Photo is estimated to be pre-1900.