"Remove not the ancient landmark, which your fathers have set."
(Proverbs 22:28)
Marietta Cumberland Presbyterian Church in 1951
(photo below)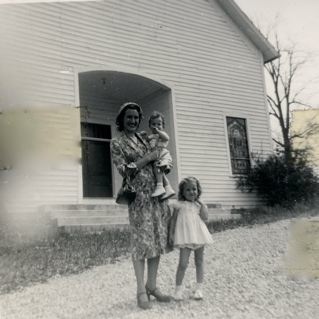 Margaret Gallaher holds her son Michael, with Suzanne at her side on a Sunday after worship service in 1951. You can see one of the old stained-glass windows behind them.
This church was more than 100 years old when this photo was taken, although the building was newer than the church body itself--the first Gallahers married at Marietta CPC were David Gallaher and Jane Montgomery in 1840. This church was always an important part of the Gallahers' lives.
David and many of his ancestors are buried in the Marietta Church Cemetery, which is up the hill to the right in the above photo. Below, see that although David Gallaher was born in 1813, his tombstone has been well kept over the years.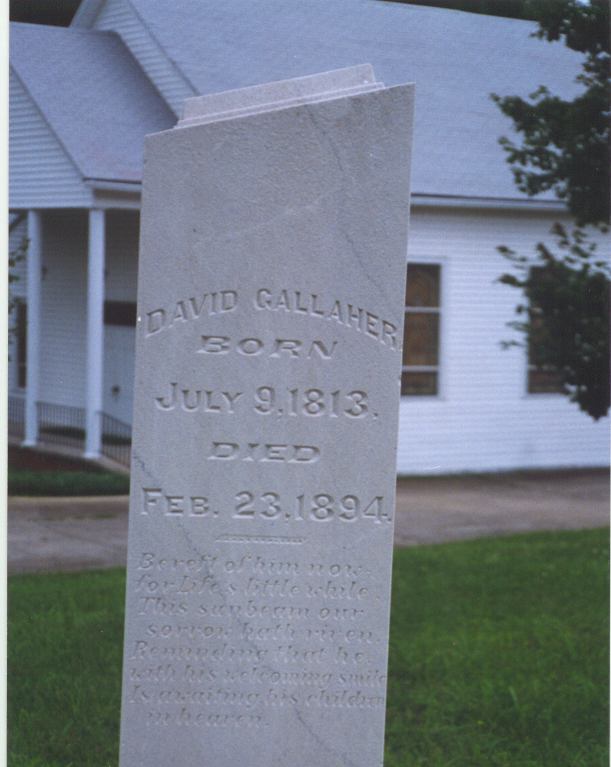 Stained-Glass Memorial Windows
Macy Gallaher's father, John Montgomery Gallaher, is memorialized in one of the Marietta Church windows. These windows are "new" within the past 50 years. Lillian Kollock Farnham was the youngest daughter of Frank and Minnie Gallaher Kollock. Helen Kollock Bryant was the oldest daughter, a home economics teacher in Cleveland, Tennessee. Both of these granddaughters of John M. Gallaher were deceased when the windows were fabricated, and thus memorialized along with him on this window.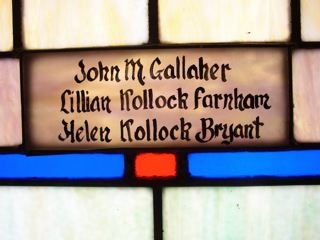 Another view inside Marietta Cumberland Presbyterian Church
As a child in the 1950's, I was always fascinated by the stained-glass windows inside the church. Those beautiful old windows are gone now, replaced with these larger memorial windows.